2015:  What a year. It's startling to think back to last January and realize how much has changed, and how quickly. If you'll indulge me, then, on a trip down memory lane featuring some photos of New Zealand that for one reason or another never made it to the blog.
I've had to split up this post into two parts, simply because there was so much I wanted to share! Part 1 will cover our travels in New Zealand from January through August. Part 2, to come in a day or so, will include photos from Australia and more thoughts on our move to Portland. I hope you enjoy!
We begin in windy Wellington, New Zealand's capital, in high summer. The hydrangeas were blooming gloriously in a riot of colors this day in the Botanic Gardens. We stayed in cheerful, blustery Wellington in a dilapidated rental house until January 16th, when, bidding goodbye to our feisty South African friend and chef extraordinaire, we drove our unreliable Honda Accord onto the Interislander Ferry and sailed south across the Cook Strait.
We were deposited in Picton, where the intense New Zealand summer sun beat down on a surprisingly parched landscape. One gorgeous scene begets another; here, the stunning views from the Snout Track, a short walk with disproportionate rewards.
After looking for agricultural work in Blenheim and finding none due to the overabundance of summer tourists, we made our way to sunny Nelson where we got along swimmingly with our freethinking AirBnb host, ate kilos of fresh tomatoes, and snuggled with her 18-year-old cat, Blossom. While in Nelson we undertook the most challenging hike of them all: an overnight trip to Angelus Hut in Nelson Lakes National Park, accessible by a spiny 6-hour hike along the ridgeline of the Southern Alps.
We camped on the edge of the eerily quiet Lake Angelus and saw the most incredible constellations in the night sky. You can just make out our tiny blue tent on the edge of the water.
All of this so far happened in January 2015 alone — insane! Keen to finally take on one of New Zealand's Great Walks, we booked an AirBnB at a farmhouse in the bitty town of Takaka where our host, a Jason Mraz lookalike, raised chickens and grew garlic in the back paddock. We took off for four days and five nights to do the Abel Tasman Coast Track, which was a warm and gorgeous experience.
My birthday found me in an utterly filthy state, unwashed for four days with blisters on my feet and layers of sunblock and sweat built up on my face. But we made hot chocolate using our beer can stove and a duo of cheeky wekas kept sneaking around our campsite, so all was well. We hiked out the next day and gave a trio of Czech tourists a ride back to town.
After a brief stay in Christchurch, with its nondescript suburbs and flat, deflated downtown, we pressed on to Dunedin by way of Oamaru. But first, it's worth mentioning the delicious meal we had at the Christchurch Botanic Gardens Visitor Centre, as so many of our meals in New Zealand were underwhelming. Fans of British pub food will love New Zealand cuisine; others, not so much!
We arrived in Dunedin in late February, which was to be our home for the next six months. Initially, we were in high spirits: we had come to Dunedin partly because our friends, an American couple, had settled there, and also because it's where the University of Otago is located, which where I hoped to pursue my PhD.
Dunedin in the summer was lovely, just like anywhere else in New Zealand. We made it to the striking Tunnel Beach and spent many evenings walking through the Botanic Gardens, taking photos of the low sunsets over the hills from our favorite vantage point in the Mediterranean Garden.
But slowly, our fondness for Dunedin faded away. The jobs we obtained through a temp agency turned out to be more stressful, and less fulfilling, than we would have liked. My plans to pursue a PhD fell apart completely, largely due to structural differences between higher education in the United States vs New Zealand, and also, to a lesser extent, because a potential advisor and I never reached a consensus about what constituted a worthwhile research topic. I'm explaining these things briefly now because my activity here on the blog took a noticeable dive around March, when the exciting veneer of discovering another country started to wear off and the realities of settling permanently halfway across the world started to sink in.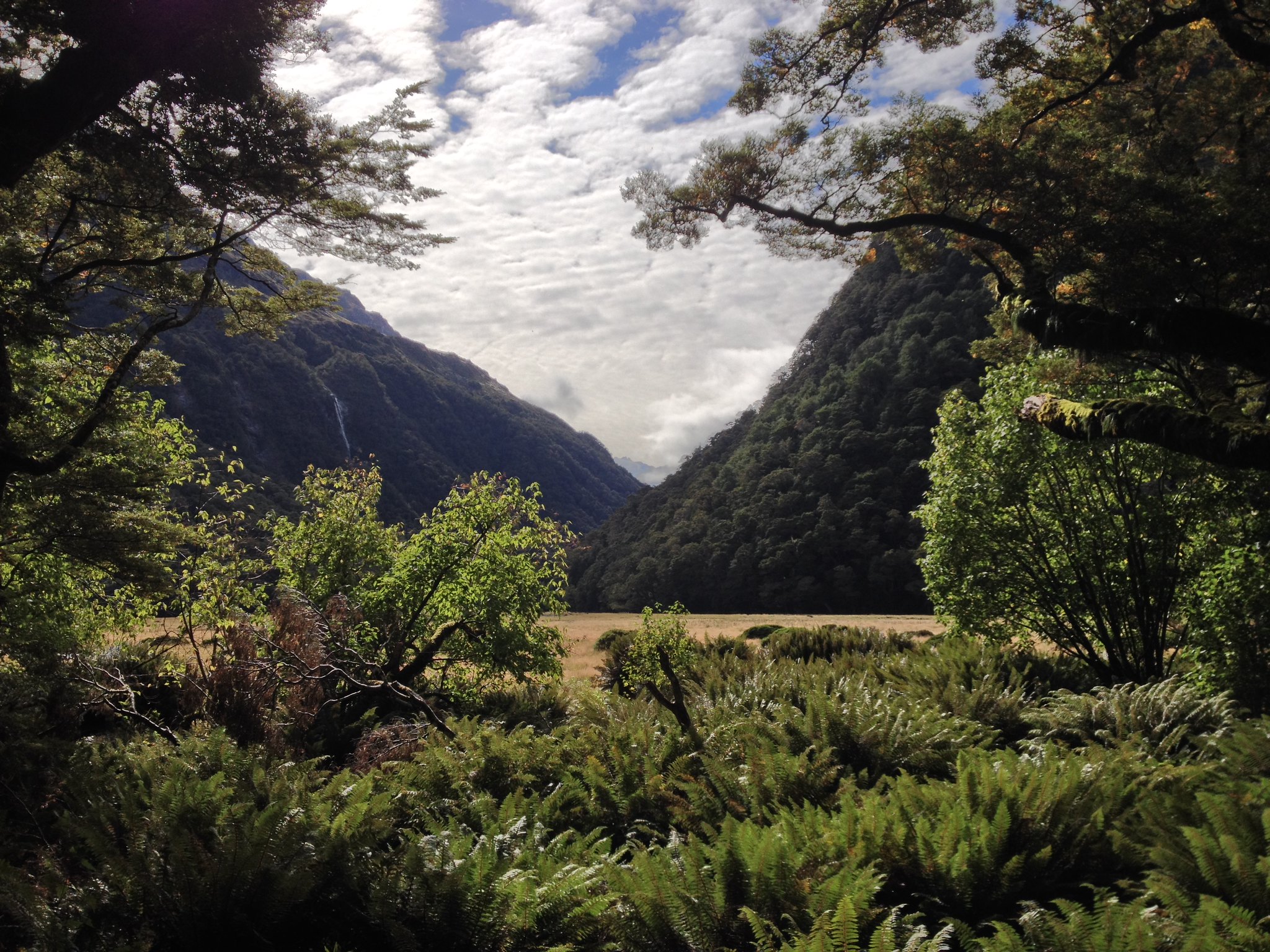 In April, desperate for a change of scenery and eager to remind ourselves why we had come to New Zealand in the first place, we drove to the West Coast and completed the first part of the Routeburn Track. It was a wonderful Easter weekend trip, and seeing the snow-capped mountain at the Routeburn Flats campsite reinvigorated us for another few weeks.
But winter had not even fully begun, and for those who have never lived without central heating, its absence is startlingly and sorely noticed. Perhaps it sounds overdramatic, but in combination with everything else that was going on, living in a house that hovered between 40-45 degrees Fahrenheit was extremely demoralizing. I do not know how Kiwis put up with the winter each year; the daily rains in Portland are nothing in comparison.
In July, not long before we planned to quit our jobs, do some more traveling, and return to the United States, we took a day trip to the Otago Peninsula on the other side of the harbor, which was unexpectedly enjoyable and very pretty. We saw huge fur seals napping in the dunes at Sandfly Bay, though unfortunately the penguins were not out on that day!
In late July, done with our temp jobs and with our return flights booked, we cheered up immensely after our trip to see New Zealand's tallest peak, Mt. Cook. Out of everything that we did in New Zealand — and we did an insane amount! — Mt. Cook National Park was my favorite. We woke up on July 27th in the dead of winter to this spectacular view.
To save money, we stayed in the YHA Mt. Cook hostel, which was great — extremely clean, warm, and cozy. Because of avalanche warnings, we weren't able to undertake any of the longer hikes that would have been possible in good weather, but it didn't matter: the Hooker Valley Track provided plenty of scenery.
We saw the tip of Mt. Cook for just a few seconds on that day. Drenched and very cold, we returned to the hostel and had a lovely conversation with a Greek traveler over a hot, carb-heavy meal. The next day, the weather was luckily a bit clearer, and we finally got some clear shots of the stupendous Mt. Cook.
It may sound dramatic to describe our trip to Mt. Cook National Park as a spiritual experience, but that's how I remember it. To be so close to such a large, dangerous, and raw force of nature was astonishing, and we were genuinely saddened when we had to leave the cozy hostel at the base of the Southern Alps.
We drove on to Tekapo, a tiny alpine town famous for its strikingly clear glacial blue lake.
There wasn't much to do in Tekapo apart from admiring the scenery, but we did have an unbelievably delicious dinner at the Japanese restaurant Kohan on the edge of the lake — highly recommend!
We drove back to Dunedin for a day to rest & catch our breath, then turned right back around and drove to Te Anau, home of the Kepler Track, another of New Zealand's Great Walks. Unfortunately, during the winter season the full Kepler Track can be hiked only by experienced mountaineers , but that didn't stop us from wandering through the lower, rainforest-filled portions.
We barely made it to Milford Sound, quite possibly New Zealand's most famous tourist attraction, because the mountainous road there kept being closed due to avalanche risk. Although dangerous, it was the most beautiful drive I'd been on in my life — a common theme in New Zealand.
Fiordland was insane. Occupying the entire southwest corner of the South Island, Fiordland is one of the wettest areas of the world, as evidenced by the pounding rain that fell on the roof of our hostel all throughout the night. We awoke to see waterfalls and rivulets tumbling down the cliffs surrounding us, and sodden green kea parrots kept us company in the parking lot. Fiordland is so remote that there is only one road to and from the Milford Sound; Internet is provided by satellite; and there is no grocery store anywhere in the park. The Sound itself was otherworldly, with the same raw and untouched quality that Mt. Cook had. Because it had been pouring all night, you could barely see the winter sun peeking through the fog.
After the 90-minute cruise was over, we had to leave immediately before the Milford Road closed again. We drove back up the windy mountain path, went through the tunnel, saw evidence of previous avalanches on either side of the road, and, luckily, didn't have to make use of our snow chains.
After a brief stopover in Dunedin to hand over our apartment keys, collect the rest of our bulging suitcases, and unsuccessfully attempt to sell our car, we drove back across the South Island to exquisite Queenstown.
There's something of a generational divide amongst Kiwis when it comes to Queenstown; older folks will complain about how busy and completely unrepresentative of the rest of New Zealand it is. Younger Kiwis, however, who are more easily persuaded to work and live in Australia or the UK, seem to appreciate Queenstown because of the good food and range of sporting activities that can be found there. At any rate, we enjoyed the tourist hotspot, and no one can argue against the gorgeous scenery.
Also, the skiing! Though difficult, skiing is very rewarding. We learned later that we were skiing on Coronet Peak the same day as Olympic gold medalist Lindsey Vonn. Pretty exciting!
After two days of skiing and soreness on Coronet Peak and The Remarkables, respectively, we sold our unreliable Accord for a paltry sum to a cheerful Argentine tourist (who hopefully didn't encounter any major mechanical breakdowns), hopped on yet another plane, failed to get an exit stamp, and flew across the Tasman Sea to Melbourne…
To be continued in Part 2!